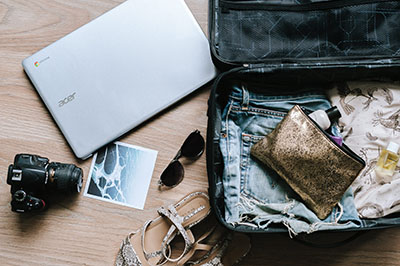 The retail store offers apparel, shoes, fitness gear and sundry items. Below are the recommended items to bring with you to The Biggest Loser Resort Niagara. As always, please check the weather for Java Center, New York to assist with your resort preparation.
Suggested Packing List
Clothes
Exercise wear
Casual clothing
2 swimsuits
Jacket and/or sweatshirt
Hat, Visor or Beanie
Winter weather apparel (gloves, long pants)
Rain gear
Light hiking or walking shoes (trail runners)
*Pack more than one swimsuit/trunks due to multiple aquatic classes.
Shoes
Athletic exercise shoes
Pool shoes / flip-flops
Other
Bug spray
Camera
Hydration backpacks (ex. Camelbak 2.0 liters)
ipod/MP3 player/CD player
Sunglasses
Sunscreen and protective apparel
Small first aid kit
Be sure to pack your prescription medication
Winter (late Fall/early Spring)
Winter Boots
Hiking Boots
Winter Jacket
Hats, Gloves
Warm Clothes for layering
Guest Suggestions for the packing list:
Small backpack or bag to carry gear around property and on hikes
Pool shoes (optional)
Cycling seat cover
Shoes for walking property ( not for working out)
Weather Information
Below is seasonal weather information to help you pack for your stay at The Biggest Loser Resort Niagara. We recommend checking the current weather for your desired stay to ensure you are packed appropriately.
Winter Temperatures (Dec-Feb): 15 – 35 degrees
Spring Temperatures (Mar-May): 22 – 66 degrees
Summer Temperatures (Jun-Aug): 53 – 78 degrees
Fall Temperatures (Sep-Nov): 31 – 70 degrees