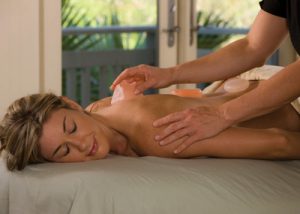 Regularly recognized as a place for pampering as part of our wellness program. An important principle within the program is relaxation and rejuvenation. Guests are encouraged to partake in enhanced massage treatments peaceful and relaxing therapy for both body and mind. Massage treatments can be customized to provide relief for soreness or stiffness as well as a soothing and tranquil stress reliever.
The spa services at our The Biggest Loser Resort Niagara, include soothing body massage treatments that are the perfect end to the day.
*Spa services are optional and are not included in the booking fee.
Massages Add-Ons
Deep Tissue Massage – This involves the application of firm pressure and slow strokes to reach deeper layers of muscle and the connective tissue surrounding muscles (fascia). Deep Tissue Massages are perfect for chronic aches and pain and stiffness around the neck and upper back, low back pain, leg muscle tightness, and sore shoulders.
Hot Stone Massage – This massage is the application of heated smooth stones which are placed on specific parts of the body used to give the massage. The combinton of the heat, weight and pressure applied warms and relaxes the muscles. This enables the therapist to apply deeper pressure on the specific areas of discomfort.
Essential Oil Massage – This particular treatment involves the use of highly concentrated plants oils. During the therapy the essential oil molecules will absorb into the skin and inhaled. The oils are thought to promote beneficial changes in your mind and body by positively affecting the limbic system.